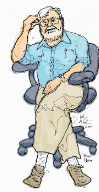 Peter Elsea's Retirement Home Page

This is not a blog.
These pages will soon become the repository of the most popular materials from my university website at
The materials at the UCSC Electronic Music Studio site: artsites.ucsc.edu/ems including my technical tutorials will probably remain as they are.
I will also use these pages to support my new book, The Art and Technique of Electroacoustic Composition, which is now available from AR Editions.
pqe